Galactica
UPPER GAME
IN ORDER TO PLAY THIS GAME IT WILL BE REQUIRED TO HAVE ENOUGH GEMS AND CREDITS. WHENEVER A PRIZE IS OBTAINED, UNLESS IT IS A BLUE BARS PRIZE, THE PLAYER WILL BE OFFERED TO EITHER RISK A PORTION OF THE PRIZE OR TO COLLECT IT, UNTIL THERE ARE NO MORE PORTIONS LEFT. CHOOSING TO RISK A PORTION MAY ALLOW THE PLAYER TO EITHER OBTAIN THE DOUBLE OF THAT PORTION OR THE EQUIVALENT VALUE OF THAT PORTION IN GEMS.
MAIN GAME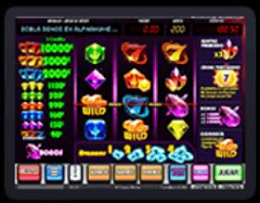 IN THIS GAME, EACH PRIZE COULD EITHER BE RISKED, BY PRESSING THE PLAY BUTTON, OR TO BE COLLECTED, BY PRESSING THE COLLECT BUTTON. IN CASE THE PRIZE IS RISKED, IT WILL EITHER BE GIVEN THE AMOUNT OF A ONE LEVEL HIGHER PRIZE OR THE EQUIVALENT AMOUNT OF GEMS. ONCE THE LINE OF THE THREE YELLOW DIAMONDS IS REACHED, THE GAME BECOMES AN UP DOWN, WHERE THE POSSIBLE PRIZES GO UP OR DOWN IN THE PRIZE PLAN.
NUDGENS
THE ADVANCE FUNCTION ALLOWS THE PLAYER TO MOVE REELS FORWARD ONE PLACE SEEKING A WINNING COMBINATION. THE NUMBER OF ADVANCES CAN BE BETWEEN AND 4.
HOLDS
ALLOWS UP TO TWO REELS TO BE HELD UP DURING A GAME TO INCREASE THE PROBABILITY OF GETTING PRIZE.
A MINI-GAMES ACCESSED RANDOMLY WHEN YOU GET CERTAIN PAYLINES.
BONUS GAME 1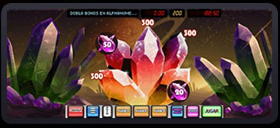 3 CRYSTALS IN MAIN GAME GIVE ACCESS TO ROUNDS FOR FREE
BONUS GAME 2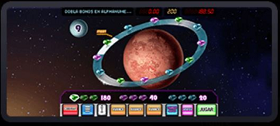 3 DIAMONDS IN UPPER GAME GIVE ACCESS TO BOARD GAME
A MINI-GAMES ACCESSED RANDOMLY WHEN YOU GET CERTAIN PAYLINES.
BONUS GAME 3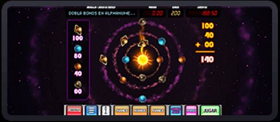 3 PLANETS IN UPPER GAME GIVE ACCESS TO ORBITAL REELS GAME
BONUS GAME 4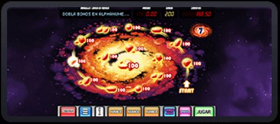 3 GALAXIES IN UPPER GAME GIVE ACCESS TO ROUTE GAME
ADDITIONAL FEATURES
VERTICAL LINES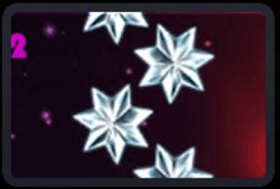 GET THE MASK FIGURES AND YOU CAN PLAY 8 LINES IN TOP GAME.
BAR MIXED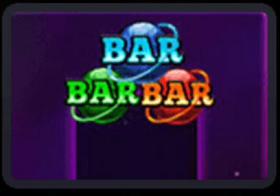 IN HIGH BETS YOU GET COMBINATIONS OF DIFFERENT BAR FIGURES AND GET A RANDOM PRIZE.
CUMULATIVE GAME
ACCUMULATE THE STAR FIGURES AND YOU WILL HAVE AN EXTRA WINNER.
The maximum win from a single game is £250,000
Last modification date: 8/12/2020