Sea

STANDARD GAME RULES
Bingo-based draw in which 30 balls are drawn from a drum containing 60 balls. The player has up to four cards with 15 numbers on each one.

If a win figure is matched on a card, the prize associated will be awarded from the paytable.

The maximum prize that can be obtained in a minigame is the maximum prize of the bet in which the game has been made.
EXTRA BALL RULES
Sometimes the player is offered the option of buying extra balls at additional cost.
JACKPOT
The top payout will be awarded if the card is complete within the first 30 balls drawn.
PRIZE TABLE

Prizes specified in credits.
When bonus labeled figure in prizeplan is matched, player will access in a bonus game.
BONUS 1
The game objective is to choose a fish. Then all fishes will begin eating all the food. The prize is the amount eaten by the chosen fish.
BONUS 2
The goal is to discover prizes. Each selection gets you a prize. The game ends when you discover EXIT or click on every element.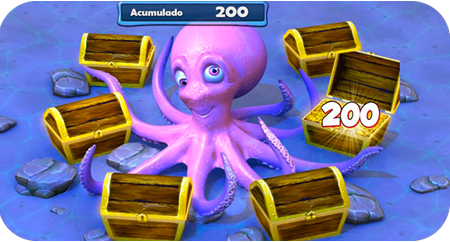 BONUS 3
The game involves a race between four different sea-horses. In each round each sea-horse will advance a distance. The final prize is the value of the first sea-horse that reaches the goal.
The maximum win from a single game is £20,000
RTP:90.64%
Last modification date: 9/16/2020